The first surprise is just how long it takes to get to Alice Springs – 3 hours 15 mins flying time from Brisbane. The temperature was a challenge too, 0 at night and up to 19 during the day. The second surprise is how far it is from Alice Springs to Uluru – about 450 km! So it was a long day in the bus, but with fantastic guides who were so knowledgeable about the area. First stop for photos was Mt Connor – or Foolaru as they call it because apparently lots of visitors stop and take this photo thinking it's the big rock since it's a big lump in the middle of a flat land.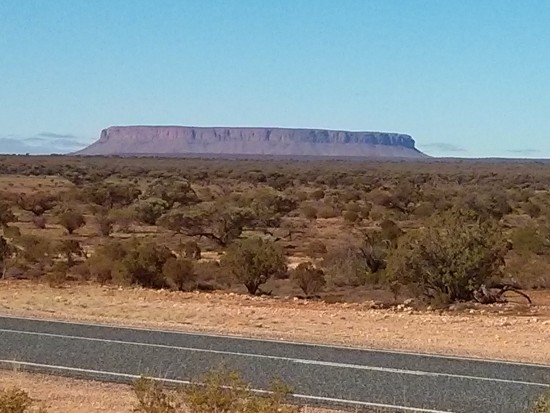 Our next stop was the Olgas, or Kata Tjuta in the local language. Gorgeously coloured lumps of rock which seem to just et bigger and bigger as you approach them. We did have the option of sprinting up a slope and back in 30 minutes max, but decided to look from ground level!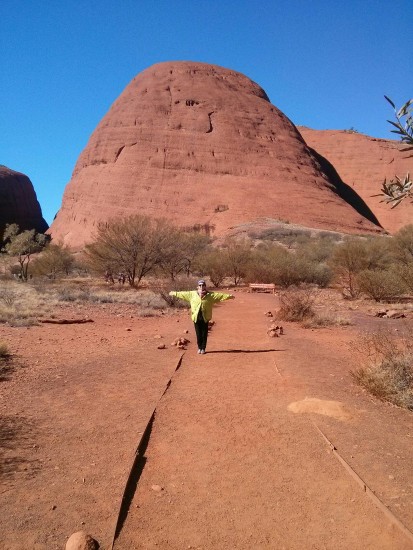 This is when you really see how red the earth is, though I was surprised how much vegetation there was as I'd imagined it to be pure sand desert. Apparently there's a lot of underground water, and you know where the water is as it's indicated by the straight trees (can't remember which kind).
From there we headed to the main attraction, Uluru and we did several guided walks at points all around the rock. We heard how the indigenous people ask you not to climb the rock, but don't forbid it, as that's not in their culture. While we were there a helicopter had to rescue someone who had had a heart attack, not uncommon apparently. We stopped at a viewing point for our dinner – they unloaded a barbecue, chairs and food from the boot of the coach and we had sausages and champagne whilst sitting watching the sunset and the amazing change of colours that Uluru presents. We were not alone – about 10 coaches were parked in the same spot, but I managed to find a spot to grab a photo without anyone else in it.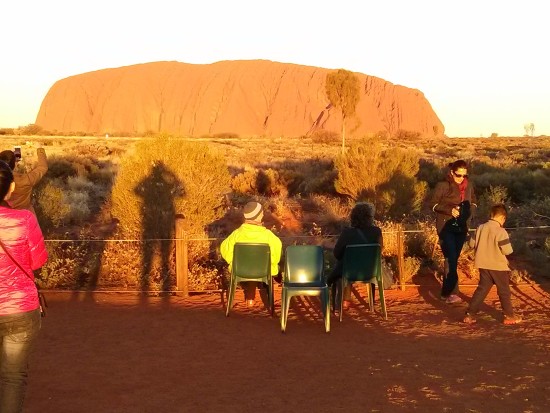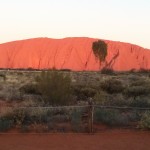 So a long day, 17 hours in total, but worth every minute.