Stayed with friends in Wollongong and took the train into Sydney. I felt really welcome as they've even given me my own station. How fab is that?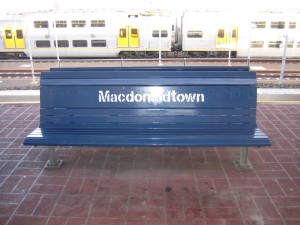 So we went to see the most famous icons in Sydney – the bridge and the opera house and I'm not going to put up photos of that as we all know what they look like. But I have to say, I had no idea that the opera house roof was tiled, and quite ornate tiles at that. Nor did I fully realise that it's its back end facing the water and that there's more than one entrance going into various venues. But that's just me, it's probably obvious to everyone else.
Anyway, I met up with some local musicians and was invited to make a guest appearance on clap sticks. How did they know I had bought clap sticks on my last visit to Australia 28 years ago?