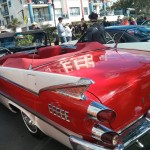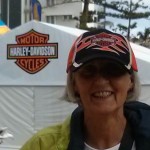 I've had a busy weekend  here, what with it being the Queen's birthday holiday on Monday this week. We went to Coolangatta to a classic car festival where about 100 or more cars were parked all along the main road. Immaculately maintained, and as far as I know, just there for the enjoyment of the onlookers. There were also lots of Harley Davidson bikes and a promotion tent with giveaways. We won a branded cap with ticket number 108 – suits me, don't you think?
Next day we went to Brunswick Heads and had lunch at Paul Hogan's (aka Crocodile Dundee) hotel. It was warm during the middle of the day so (young) people were paddle boarding, swimming and rope jumping into the creek (no translations, you'll just have to imagine it).
Yesterday we went to a K-Mart to find a soft eski to carry with us to Cairns and keep our provisions cool and ant-free as we move from Cairns to the Daintree.  Apparently we're going on the crocodile tour in the mangroves and a glass bottom boat trip to the Great Barrier Reef. Well you have to, don't you?