This is where 'I'm a celebrity, get me out of here' starts with the helicopters. It's just along the road from Jeannie's,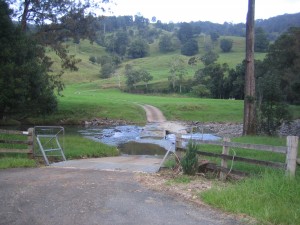 And if you knew where to look, you'd see that site behind me in this photo, taken from the top of the nursery hill.
And when I say alive – I'm referring to the leeches which we caught in the wet grass – well, I didn't, but Jeannie did. Blood, blood everywhere and so hard to stop it.
This is me on the 'Australian Sheila Preparation Course' vehicle, but I didn't actually drive it. Sharyn took us on a round of their property and it was hang-on-to-the-sides-so-you-don't-fall-out for most of it. The second one below is blurry as I was hanging on at the time and couldn't focus – that's my excuse anyway.